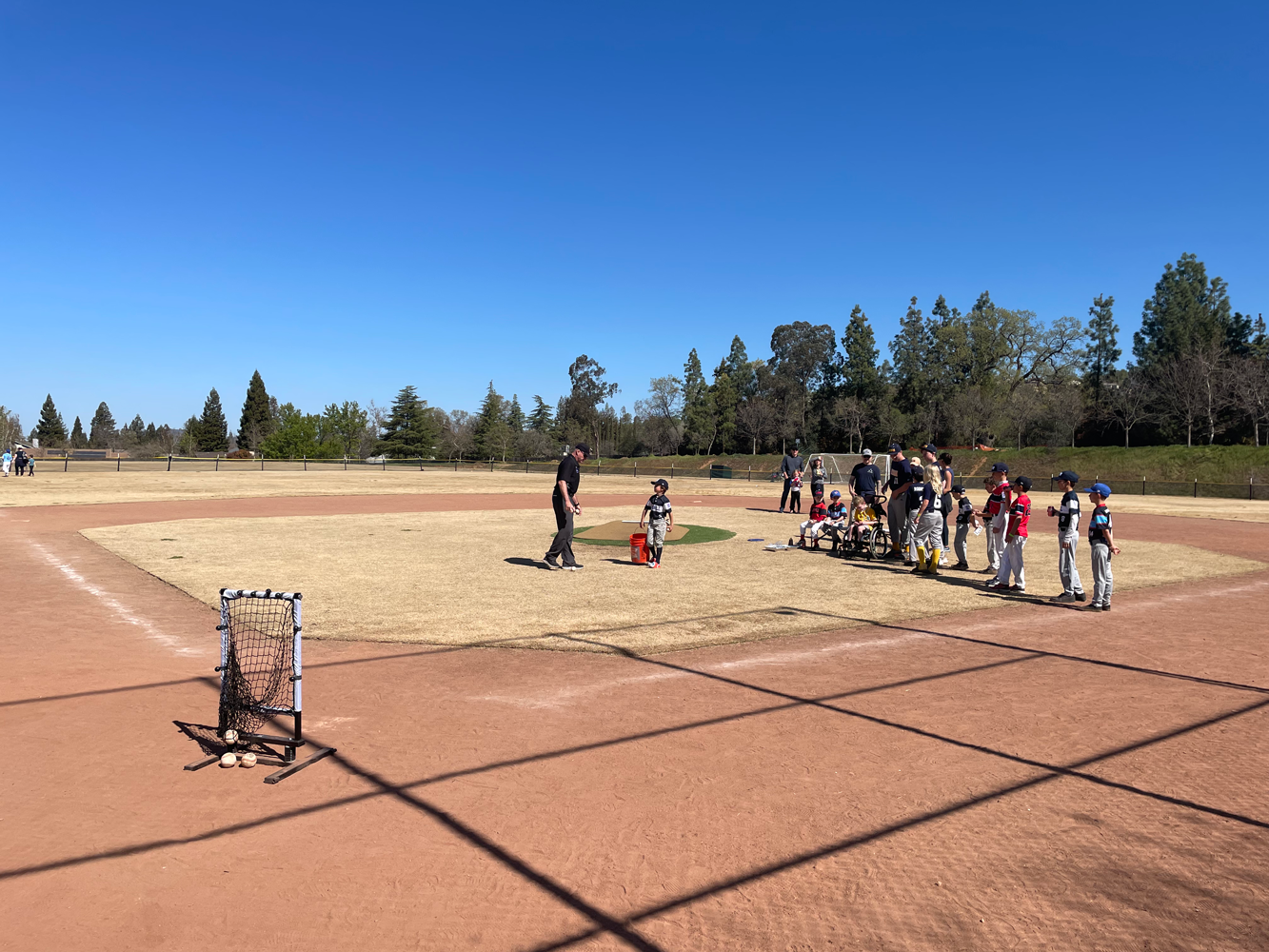 OUR STORY
STRIKE!
YOU'RE BLIND, THAT WAS A BALL!
We've all participated in this argument.  As a player, coach, umpire, fan, or family member. Not only during games, but during practice as well.  Is there a better solution?
11 KIDS, 2 COACHES

The years of coaching fly by in the blink of an eye.  But when you're in the trenches, especially with younger ballplayers, as coaches we'll take all of the help we can get.  The best baseball training tools are portable, durable, affordable, safe, easy to set up, fun and intuitive.  They don't require 3 adults, an instruction manual, and 10 minutes for setup.  Kids instantly know what to do with the training tool once it's in front of them.  Benefits include repetition and internal competition.  Batting tees.  Hitting nets.  Weighted balls.  Wiffle balls.  Anything else?
WORK THE CORNERS
70% of strikes in college and pro baseball are on the outer half of the plate.  How can both pitchers and hitters work on control of the outer half?
TAG ZONE TARGET
How can we create skills competitions during practice for catcher throw downs, pitcher pickoffs, or outfielder throws?
BETTER THAN A BROKEN NOSE...
As coaches, how often do we catch bullpens?  Whether we're squatting behind the plate or sitting on a ball bucket . . . do we wear a protective mask?  Can you coach your pitcher as effectively while simultaneously catching pitches (or dodging balls in the dirt)?
These are the questions we set out to answer beginning in 2017.  I was coaching a 12u baseball team without field access.  We rented a batting cage 2x a week.  Live at-bats (LAB) soon became our focus.  Each pitcher faced his teammates in the batting cage tunnel at game speed.  For our LAB point system: 
+1 BB, HBP
+2 Solid Base Hit (1B)
+3 XBH (2B, 3B, HR)
-1 Out (Pop-Up, Weak Grounder)
-2 K Swinging
-3 K Looking
We recorded LAB outcomes and posted results at our next practice.  LAB results determined our pitching rotation and batting order.  As space inside the batting cage tunnel was limited, it was not ideal to have catchers gear up for LAB.  Instead we used white athletic tape for a makeshift strike zone on the black vinyl backstop.  For the most part this worked fine, but kids got into serious arguments on close pitches.  "That hit the tape!  No way dude, that pitch was 2 inches off the tape!"
These same kids also played epic wiffle ball games.  Add a BBQ, some of these wiffle ball games would go beyond 3 hours.  We used a 7×7 hitting net for our backstop, with an adjustable strap strike zone accessory.  Problem was, games kept stalling out because kids constantly argued whether the pitch hit the strike zone attachment.  Same as with the medical tape strike zone in the batting cages, the hitting net strike zone led to heated debate on pitch calls.
Next step was the easy one.  Bought some PVC pipe at the local hardware store, cut up some netting, and made a wiffle ball strike zone.  Took it a step further, found yellow PVC pipe online and made some cool foul poles.  Problem solved for wiffle ball.. but what about baseball? 
Rack-it Truck Racks (www.rackitinc.com) has been perfecting the utility truck rack since 1986.  I brought our PVC pipe wiffle ball strike zone to their factory and asked:  "Can you make one of these strong enough to withstand baseballs pitched full speed?"  A few years later, hours of testing, tons of candid feedback from coaches and players, 15 design iterations and counting, we're happy to report the answer is . . . YES! 
Dan Vetter
BP Strike Zone